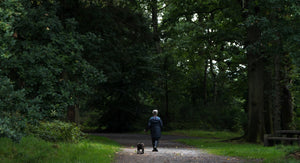 How to look after yourself when grieving the death of a pet
Losing a pet is a painful experience and shouldn't be overlooked. Often, people show less sympathy toward someone who has lost a pet than if that same person were to have lost a human family member. But this should be discouraged. Pets are still our family, after all. Everyone grieves differently, so no two people will have the same needs during this period in their lives. The process and feelings you might be experiencing after losing a pet will look completely different from those around you – but that doesn't matter. This is your grief journey.
We have collected together a few things you might want to consider when grieving the death of a pet. These things won't cure your heartbreak but should allow you time to be kind to yourself during this difficult period.
Make sure you allow time to grieve
Our lives are busy; nobody seems to sit still anymore. Our to do lists are never ending and, although this might feel like a good distraction, you do need to remember to take time for yourself. In the long term, avoidance won't help – so you need to make sure you allow time to grieve.
Reflect
Throughout the grieving process, you're going to feel a whirlwind of emotion. It is going to be a hard time, especially when memories, anniversaries and physical objects crop up that might trigger you. But you need to take time to reflect and remember who you have lost. We suggest writing your feelings down (you could consider writing a Grief Journal) and really allowing yourself to reflect on your emotions. Writing is a brilliant way to reflect, because it involves a physical action and, in a way, forces you to sit with these emotions.
Seek support when needed
Quite often, people feel guilty for being upset when their pet has passed away, with many comparing their loss to others. This is not only unhelpful, but detrimental to the grieving process and mental health of the individual. If you feel as though you're struggling with what has happened, always seek help; no matter what it is for. Our mental health can be fragile, especially when coping with loss. The quicker we are able to seek help and support when needed, the better. It is also important to remember that you don't just have to seek help from professionals; your friends and family are there to support you. If you feel yourself struggling, even just texting a friend can make all the difference.
The death of a pet shouldn't be taken lightly. Our pets are our family, companions and best friends, so it is only natural to grieve them when they are gone. Taking time for yourself is so important, especially after the initial loss. If you're looking to commemorate your pet in some way, we have a collection of pet-themed memorial jewellery you might want to take a look at; our personal favourite is our Paw Print Memorial Ashes Pendant with Swarovski Crystals – it is the perfect way to keep your companions with you.
By Rebecca Thomas