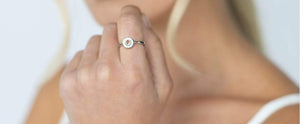 When should you wear your memorial jewellery?
Firstly, this title might be a little misleading. There is no right or wrong time to wear your memorial jewellery; each person is on a completely unique grief journey and will find comfort in different things. That being said, however, we do think there are a few tips you could follow in order to fully appreciate, utilise and respect your piece (or pieces) or memorial jewellery.
Don't feel pressured to wear it every day

When we first get our memorial jewellery, it is natural to want to wear it all the time; almost to show your devotion to your lost loved one. However, this really isn't necessary and shouldn't be something you feel obliged to do. Your memorial jewellery is special and should be treated with care, respect and love – so sometimes, giving it a break while you're doing everyday things such as showering, washing up, gardening or trying your hand at DIY, it is best to remove it.
Feeling pressured to wear your piece of jewellery every day is completely normal – after all, you do want to keep a piece of your loved one close as often as you can. But sometimes this can lead to negative attachments to things. Try to tell yourself you are only going to wear your piece of jewellery on certain occasions, or when you're feeling a certain way. That being said…

Wear it to feel close to your loved one
As we have mentioned, you don't need to feel as though you have to wear your memorial jewellery every day. In fact, you might only want to wear it to feel closer to your loved ones and, therefore, save it for occasions of celebration, sadness or remembrance. By saving your memorial jewellery for these occasions, it's presence will help you feel closer to the people you have lost.
When we wear jewellery every day, we do tend to take it for granted; saving your memorial jewellery for certain occasions will help you to feel closer to the people you have lost.

Always try to store your jewellery correctly
While we have mentioned wearing your jewellery all day, every day, probably isn't the best idea, this leaves the question of storage. Where is the best place to store your precious jewellery when you aren't wearing it? We suggest getting your hands on an anti-tarnish bag (such as these) to help clean and prevent your jewellery from tarnishing. Many people who use anti-tarnish bags say that they place their jewellery in them when they are getting on with their everyday chores, to keep their jewellery safe and clean – we really recommend getting your hands on one of these bags for all your precious jewellery.

As we previously mentioned, no two people are the same. You might find comfort wearing your memorial jewellery every day, whereas others might only wear it when they need that bit of extra support. There really is no right or wrong way to wear this special piece of jewellery. We do recommend looking after it, though, and you can find our guide for care here.
By Becca Thomas